Trumpocalypse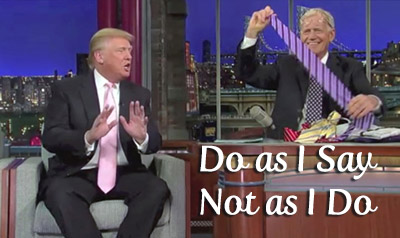 Republican Hypocrite?
If you say it out loud, "Do as I say, Not as I Do" does that get you off the hook as a hypocrite? I don't think so. My dad tried using that line when we were kids and it did little more than confuse us. As Donald Trump deploys yet another meaningful executive order, this time aimed at ensuring that at every possible turn, products sold in America are made in America by Americans. Remember this David Letterman episode from 2012... blow-hard Trump uttered a four year old's retort when asked about his clothing line being made in China and Bangladesh. "So, the Bangladesh have to work too."
And yesterday Trump defended his non American resort staff at Mar-a-Lago claiming no Americans would take the low paying jobs. And his requested overhaul of the H1B Visa will undoubtedly include exemptions for the rich to hire whomever they please.
Thank You Red States!
April 19, 2017