Saturday, October 16, 2010 - Back to San Diego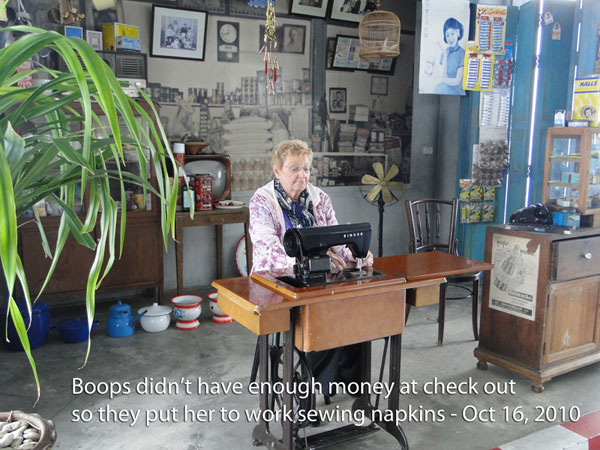 We tried to check out of the hotel on time but Boops couldn't cover her share of the hotel bill... the nice hotel management said she could work it off sewing napkins for the Stella Restaurant on the 83rd floor.
At the rate she sews we should be coming back to get her around Christmas time.....
A few more hours and we will be ah the airport... those of us who paid their hotel bill that is.....
So we made it home in good time. Of course we got to LA and it was raining - just like in Bangkok only cooler. We got through customs and immigration without the anticipated strip search or third dregree... oh well, maybe next time. Then we enjoyed drining 2 hours home from LAX in the lovely rain and after dropping off Andrew's family at their home we made it back to Tulip Street around midnight.
Thursday, October 14, 2010, Bangkok, Thailand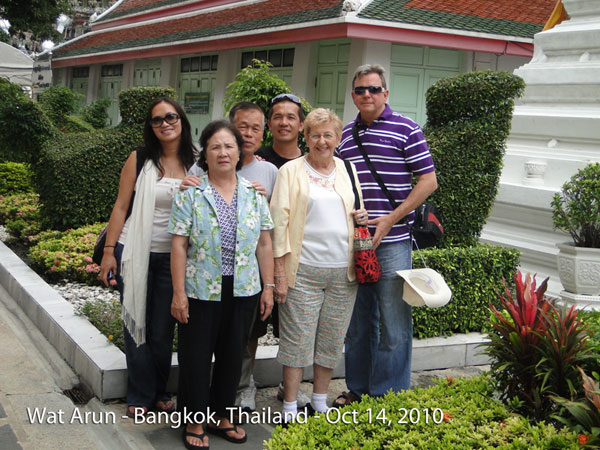 Another wonderful vacation day started here in downtown Bangkok. We are staying at this awesome hotel in the heart of downtown where the views from our 35th floor suites are panoramic and the neighborhood at street level is hot, crowded, and densely polluted with car emissions. We had breakfast on the 82nd floor where I think you can see all the way to Luang Prabang. To make the day even more special it is Andrew and Terry's 9th anniversary. We are fortunate to spend it in such good company. We hired our lovely friend Mr Sayan again to drive us around and we visited the awesome Wat Arun, Temple of the Dawn. This temple complex began in 1809 and was heavily influenced by Chinese Buddhists. The pictures tell it better than I can. Then we moved on to see the Royal Barge Museum where the king's royal barges are stored and available for the public to view. Wood carved boats and intricately embroidered accessories demonstrate the peoples' love of their Thai royalty.
Traveling south about 40 km we came to the quaint town of Nakhon Pathom, home of the largest temple stupa in Thailand, the Phra Pathom Chedi. We enjoyed this peaceful and cherished temple which like so many in Thailand it is undergoing repair and reconstruction. Another wonderful example of artisan ship that knows no bounds. On our way out we stopped for freshly roasted young coconuts that were sweet and refreshing. We ended our touring with a stop at the Thai Human Imagery Museum. A wax museum of Thai life of the people and the royals. Check out the pics - the realism was staggering.
Monday, October 11, 2010 - Luang Prabang, Laos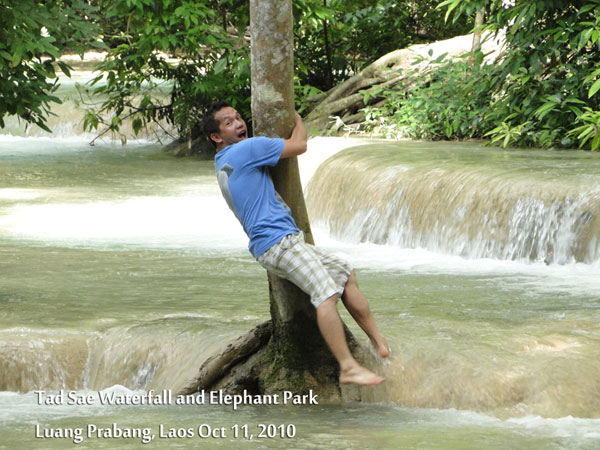 It was a hot sunny day in Luang Prabang today which started with a tour of the Grand Palace Museum and gift shop. This was the former home and stately palace of the last king of Laos, Sisavang Vatthana who Andrew is consequentially named after. The grounds were beautiful and there was a familiar mix of ancient buildings and new ones including a new temple that has been in progress for almost 10 years and is nearly complete. We took some time in the afternoon to ride to this great waterfall park where the water was welcome and refreshing and there were elephant rides. Boops didn't go on this adventure as it was too physical for her. We had to trek down a big hill and then get into long boats and cruise down and across the Khan river. The place is quite remote and fortunately for us because it wasn't crowded. What a great place to cool off on a hot, humid day like today. Top it all off with a yummy traditional Lao dinner and then the night market for the few shop-a-holics among us.
This pic? Andrew is holding on for dear life trying not to get swept down to the next cascade. Never too hot for ham.
Sunday, October 10, 2010 - Luang Prabang, Laos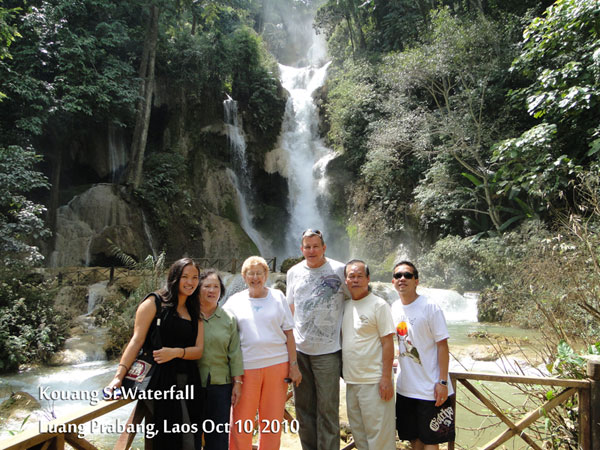 We moved from the lovely Villa Santi Resort into town to the Villa Santi Hotel which turns out to be just a few blocks from where Andrew grew up as a young child with his family. It was very nostalgic for him and his family. Andrew hasn't been here for almost 10 years and his sister Bea was here only as an infant so this was all quite new for her. We started our day visiting a local tourist opportunity, the Kouang Si waterfall and nature park. As you will see from the pictures it was a picturesque nature setting with a vigorous nature walk to the top of the falls. In town we walked where Andrew walked as a child and visited the temple where he spent many an afternoon as a boy. We walked through town and met some of Andrew's relatives and got a chance to see how the Manisouk's live here in Laos. From the looks of their homes they seem to be doing well, family drama notwithstanding... but then who doesn't have family drama. Boots got to visit the night market where crafts persons sell their ware along side cheap knock-offs from China. Along the banks of the Mekong river, Luang Prabang lives up to its designation as a world heritage site. The people are friendly and the town is very clean and easy to get around.
Okay, so they charge the tall white guy and his mom more to get in to local attractions and museums than they do the Lao folks... but at least the BeerLao is the same price.
Saturday, October 9, 2010 - Villa Santi Resort, Luang Prabang, Laos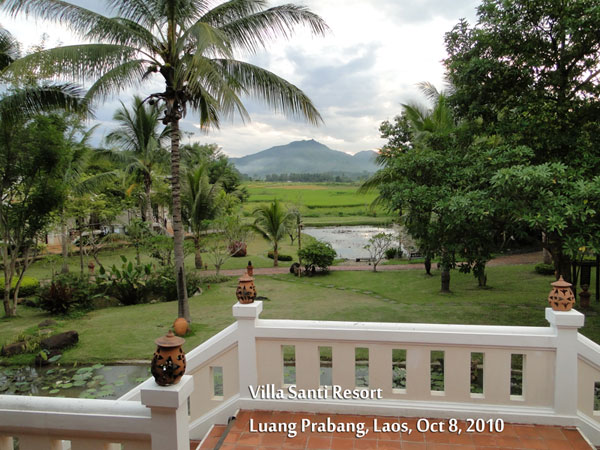 Luang Prabang, Laos – once the legitimate royal capital of Laos, it is now a world heritage city and a must see on the list of Asian destinations. We are spending our first few days in this lovely resort outside of town where it is most rural, quite and tranquil. I am posting pictures showing the view from the front door of our room and one from the lanai. Andrew's family roots are here and tomorrow I will get to see where Andrew was born, walked as a child and frolicked along the Mekong river. Today is a day of rest and relaxation. Some of our group are off to the spa for massage and beautification, some of us realize that it may be a lost cause and are content in the bar and the very tasty BeerLao, both light and dark. The service here at the Villa Santi Resort is quite good. It is their 'quite season' and only about 20% occupied. Dinner last night and breakfast this morning were quite nice and their fried rice is wonderful. Boops was equally thrilled that the chef could prepare a western breakfast with scrambled eggs and toast. Tomorrow we move into the city and take the Manisouk tour.
This picture was taken just after we arrived last evening and just at dusk. It is shot from the lanai of the main building and reception hall of the resort. The grounds are beautifully kept with lush greenery like bamboo, bougainvillea, palms, papaya and a host of species I don't know the names of.
Thursday, Oct 7, 2010 - Vientiane, Laos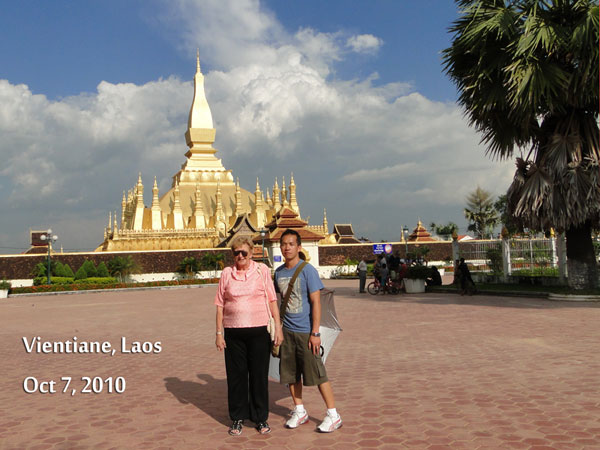 We are nicely settled in our Lao Plaza Hotel in the lovely city of Vientiane, Laos. This is the capital city and home to some very warm weather and beautiful artwork, craftsmanship and friendly people. Andrew's fathers brother and his family live here and we spent the good part of the day with them site seeing, shopping and then a great traditional Lao dinner. Boops is holding up pretty well in all this heat - ok her hair is a little soft and frizzy - but so is everyone else's.
This town, like much of Laos and South Vietnam, has noticeable French influence, of prior occupations. You see streets named Rue this and Rue that and French restaurants and cafe's. There is building going on every where including an ambitious project along the shores of the Mekong River.
This pic? Boops and Andrew in front of one of the foremost national symbols of Laos, Pra That Luang... the largest stupa in Laos and host to a major celebration every November.
This city, like the country, is rich with history, mystery and superstition. Although under communist control, Laos is considered by most to be communist-lite... whatever that means. We are finding it a lovely city with charming people and huge trees with leaves the size of turkey platters.
Monday, October 4, 2010 - Bangkok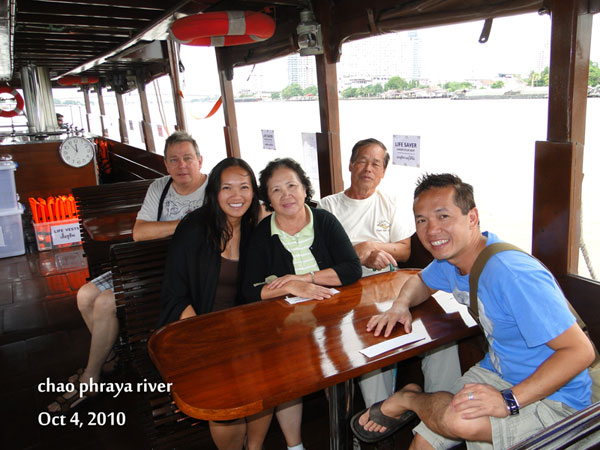 Traveling on the Chao Phraya river through Bangkok is a great way to see so many unique things... getting on and off the river boats was a little too difficult for Boops so she remained at the hotel while the rest of us spent a very soggy afternoon riding down the river and then walking for miles in search of the great arts museum back in the neighborhood of the Grand Palace. Well, umbrellas in hand we found the museum only to be disappointed to learn that it is closed on Mondays and Tuesdays. Not all was lost, we did find a nice shopping center that was out of the rain and cool and comfortable. We bought some tasty street food and headed back to join Boops at the hotel.
Sneeze – Bless You – Gesundheit – that's what you get for going around in the rain. We are told that locals believe it is unwise and health risky to be out in the rain... hence they stay in when possible. Tourists on the other hand have to defy the odds at this time of year or else spend the whole day in the hotel.
The Chatrium Hotel runs this short boat service from the hotel to the public boat landing where you change boats and go wherever... it's convenient and inexpensive and runs every 30 minutes.
On to Vientiane, Laos
Sunday, October 3, 2010 – Bangkok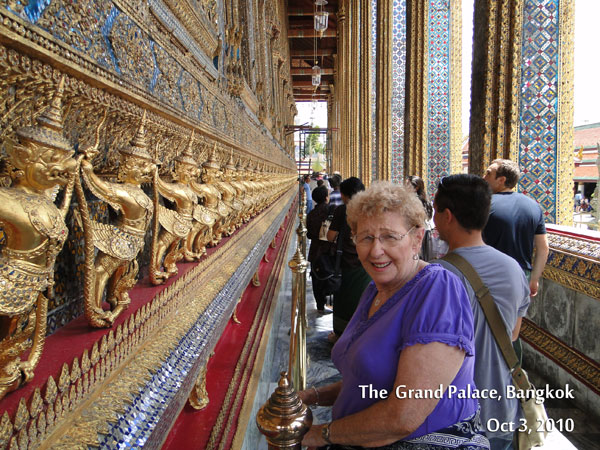 Today was a fast paced busy day. Mr. Sayan (Sam) collected us right after breakfast and we were off to the Grand Palace, the pride of Bangkok. The pictures tell the story... the artistry and attention to detail in all of the buildings and surrounding art objects is simply amazing. Elaborate stone guards protect the entrances to all the royal halls and strict dress codes are required for entrance. I think we wore Boops out with taking off your shoes before entering each of the royal pavilions then finding them in the giant pile on the way out. The Temple of the Emerald Buddha is one of Thailand's sacred joys and the pavilion is absolutely gorgeous. Sorry, 1000 baht fine for taking picture of the Emerald Buddha. The picture I shot was with a telephoto lens from the legal zone. Next to the Grand Palace is Wat Pho – where the Temple of the Reclining Buddha is found. Boops was amazed by the size and grandeur of the Buddha and the intricate mother of pearl inlay on his feet. We finished the day with a ride south about 70 km to the beach town of Pattaya where we had dinner, did a little shopping and entertained some fierce rain. Our driver had great stamina and while his driving scares me to pieces, he did get us home safe and satisfied.
pic: Boops in the Palace of the Emerald Buddha astounded by the hundreds of golden statues guarding the Buddha shrine.
Bangkok Thailand - Oct 2, 2010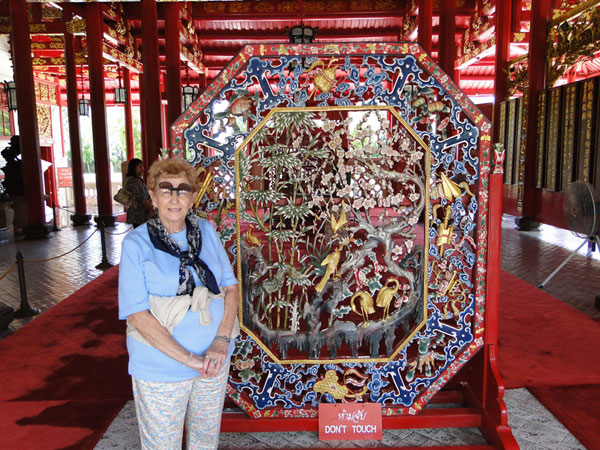 Another fabulous day to add to our vacation repertoire. Mr Sayan (we named him Sam) picked us up promptly at1000 and we drove north about 70 miles to the province of Ayutthaya and the kingdom's summer palace at Bang Pa-In. This is an opulent retreat for the royal family built in the late 1800's by Rama V, aka King Chulalongkorn. While it is still used today by King Bhumibol it is largely a tourist attraction. We then went on to the ancient capital city of Ayutthaya. Much of the old city, which was built about 650 years ago and almost entirely from red clay brick, lies in ruins but as you will see from the pictures, there is recognizable beauty among the remnants. Boops took her first Tuk-Tuk ride as we zipped around the various historical sites snapping pictures and walking in the footsteps of Siamese governors of centuries past. We ended our day at the Bangsai Arts and Crafts Center, a favorite of the current Queen. Unfortunately the craft centers were closed by the time we got there but we had a most excellent dinner in this large outdoor pavilion followed by a terrific thunderstorm. We let the storm pass and then found our way back to the hotel.
photo: Boops at the Summer Palace, Bang Pa-In
Bangkok Thailand - Oct 1, 2010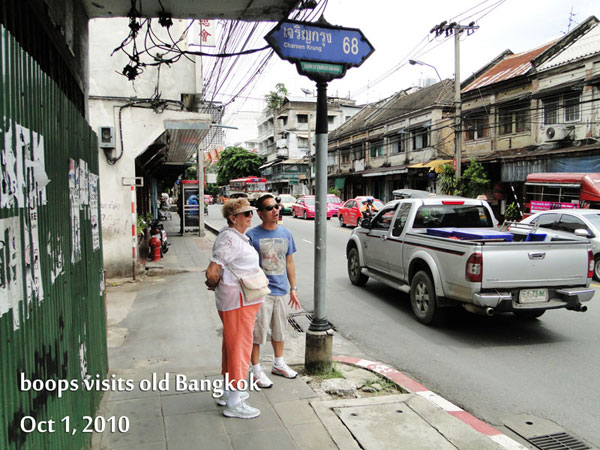 Our plane from Beijing was an hour or so late getting in to Bangkok but we got through the customs and immigration process quickly and found a charming cab driver named Mr Sayan who not only got us quickly yo our hotel but offered to drive us anywhere we want during our stay. Boops is continuing her mild case of culture shock as she experiences new sights, sounds and smells - all part of asia... much of which is like your first taste of scotch whiskey, also an acquired taste.
The Chatrium suites hotel we are staying at is very nice, on the banks of the Chao Phraya river and within easy access to many of the cities tourist attractions. We will be journeying up and down the river over the next few days and touring Thailand with Mr Sayan.
In picture Boops is looking around this street in old Bangkok, just a few blocks behind our hotel, and wondering about the interesting sights and smells that surround her. Asian cultures have quite different standards for infrastructure and 'plumbing' and some of the VERY organic smells take getting used to ... not unlike a teenagers gym socks or a hearty limburger cheese.
Confucius say... if everyone smell same, nobody stink.
Wednesday, September 29, 2010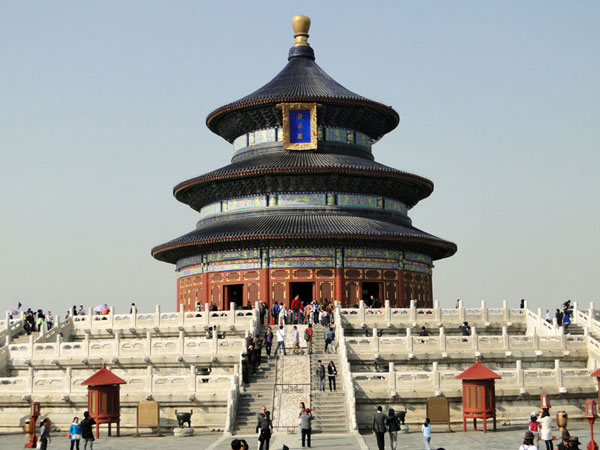 So we ended our time in China with a L O N G hike to the Temple of Heaven - sort of a getaway for the Ming and Qing dynasty emperors - a place they could shake off their drug and alcohol indulgences and give up their concubines for a few days in order to bless the harvest and send prayers to heaven. Nice work if you can get it. Rather like a week at the Betty Ford clinic before taking that new job. A little shopping and yes, finally, Bea talked Andrew and Terry into eating a deep fried scorpion – and we got some great video footage of that event at the night market. Mom stayed in and rested today as she seems to have contracted a bit of a cold. Tomorrow,off to Bangkok and a move from the very dry, cool air of Beijing to the very warm, moist Thailand.
Tuesday, September 28, 2010
We hired a car, driver and excellent guide to take us around today. We started at this place called Ming Tombs - which is rather like the valley of the kings in egypt. Surrounded on 3 sides by mountains - 'feng shui' correct - the Ming Tombs is the resting place of 13 Emperors and their entourages. Then we went to this magnificent jade factory where we had lunch and spent a bunch of money... the artistry in their myriad pieces was extraordinary. Then of course, what would a trip to China be without schlepping around the Great Wall of china. That was a hoot - Terry didn't make it all the way to the top of the section he was climbing but Andrew and his sister Bea did... boops got her picture took with the great wall behind her and then relaxed in the local cafe with our guide Sally while the rest of us pretended we were an invading hoard of mongolians and stormed the great wall... or something like that. On the way back we got a glimpse of the Olympic Village including the Water Cube and infamous Birds nest Stadium. Way cool to see it in person....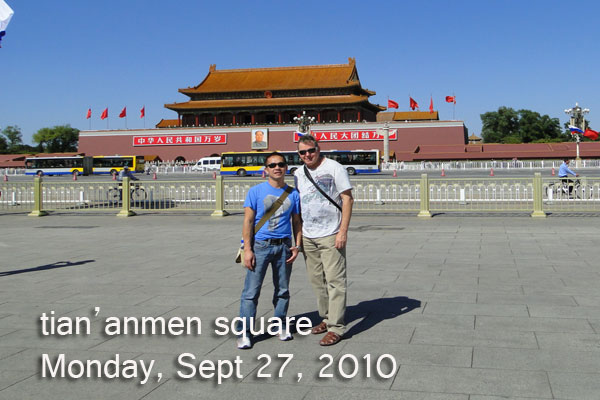 Monday, September 27, 2010
Today we ventured back to the old city and toured Tirana Square and the surrounding gardens and courtyards. It is a remarkably maintained and enormous public park with wonderful art in both sculpture and design. As you will see in the pictures, Tian'Anmen Square, well really all places we have been to so far in China, are a mass with people. Chairman Mao is clearly the highlight of this social gathering place. Unfortunately (perhaps), his tomb was closed to the public today so we couldn't see his preserved remains. The National Museum of China was also closed today and we hope to get back there before our 5 China days run out. The Boops is holding up well and while she may not be a marathon sprinter she has been a good sport.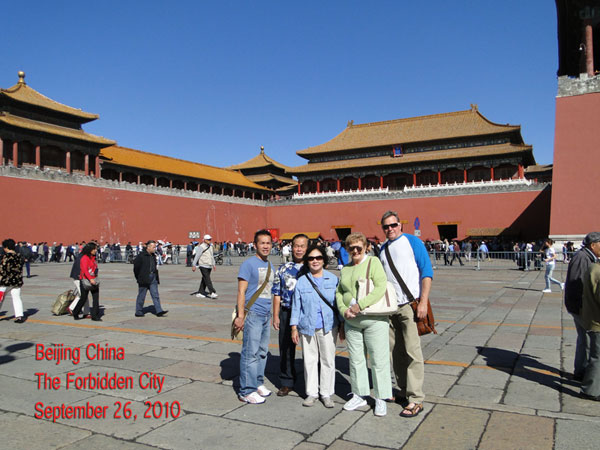 Sunday, September 26, 2230.
First full day in Beijing – well we wanted to see the Forbidden City and the Palace Museum and we did. I have started loading selected images into the photo album which you can see by clicking the yin/yang. It was a great day but I must say we totally fatigued everyone, including Boops who gets a gold star for walking 6 miles without bellyaching. At least until we got back to the hotel and she found out the Chinese use real ginger, and lots of it, in their Ginger Ale.
The Forbidden City is a national treasure and today it was totally mobbed with tourists and locals galore. Being over 500 years old it is in a constant state of decay and restoration... come to think of it, so are some people I know... oh you know who you are. As you will see from the pictures, the old city is quite vast and requires a lot of stair climbing and non alcohol induced stamina. Fortunately for us, the weather today was sunny and 75 and we got by with green tea and cookies.
Saturday, September 25 8pm - settling into our downtown Beijing hotel... the Jade Garden Hotel . After traveling for two days it is so nice to finally get somewhere. This hotel is an historic landmark used for some nefarious reason during their civil war in the 60's and now beautifully restored. The front desk was rather short of english speaking staff and the young man I was talking to was visibly stressed trying to meet my needs. We are told that it's just a five minute walk to the Forbidden City south gate and we shall check it out tomorrow.
Saturday, September 25, 0730 - Boops and gang made it to Bangkok after a 16 hour, 20 minute flight on Thai Airways - I can only get a few minutes of internet time on their free Wi-Fi in the Bangkok terminal so I have to type fast - the flight was nice, nice and long... they served 3 hot meals, we watched 5 feature length movies and there were still 7 hours to go... thanks to the Bombay Sapphire we were able to stay calm and reasonably relaxed. We are now waiting a few hours for our flight to Beijing - Boops and the gang are shopping and touring this beautiful airport in Bangkok....
thursday - 9-23 driving to LA for our flight to Beijing