Summer Vacation 2014 - Mediterranean Cruise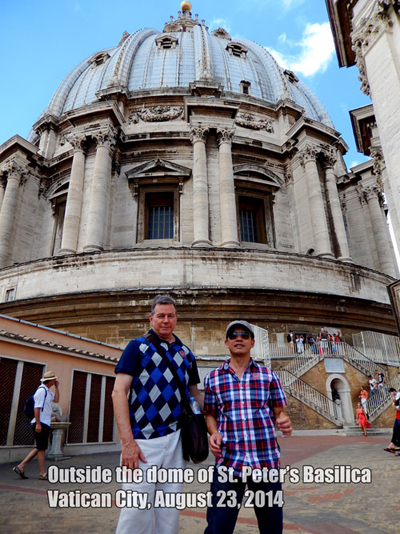 Gotta love vacations even when you spend three hours waiting for the Pope and he never shows. So we survived two weeks in Europe and returned home all the richer for having stood face to face with amazing art, history and colorful people.
Our photo albums are loaded -
Our Itinerary and Photo slide Shows
Rome
Colosseum, Roman Forum, Palatine Hill, Trevi Fountain, Pantheon, and 40+ piazzas, pizzas and glasses of local wine.
Vatican City
Vatican Museum - St. Peters Square and Basilica - and Sistine Chapel - OMG. The art is breathtaking.
Savona, Italy to Monte Carlo
Bus ride into France and on to Monaco and Monte Carlo. Oh how nice to be rich.
Barcelona, Spain
Christopher Columbus got lost there too. Tapas and local wine, divine. Very roman architecture.
Cadiz, Spain
Beautiful beaches. Much more Spanish than Roman in language and local architecture with French and Portuguese influences.
Casablanca, Morocco
Islam is apparent everywhere. In place of myriad churches stand mosques of equal grandeur. The local cuisine, Tajines, marvelous.
Tangier, Morocco
Camels, French and British influence, excellent coffee and picturesque hills overlooking the Mediterranean. Less Islamic than Casablanca. From the top of the hill you can see Africa and across the straight of Gibraltar, Spain.
Lisbon, Portugal
Sprawling coastline, Bay Bridge by the same designers of the Golden Gate bridge, magnificent stonework and architecture, new and old. Seafood, Sausage and Portuguese Beer, oh my.
Valencia, Spain
The Torres family has a long history there and the city is beautiful. Old sea facing fortresses and modern architecture using rich stone and brick. Like every city we visited, except Monte Carlo, you can't swing a cat without hitting a church or mosque.
Travel Tips:
No matter how many people get in your way while you're taking pictures, don't yell - 'photo bomb.'
Italians are culturally warm and friendly even when their conversations seem loud and animated. They clearly have a different concept of personal space than we do. Don't be offended if you get squeezed tightly on a crowded bus or elevator or bumped in a cafeteria line. Yes, like France, there is no deodorant in Italy.
The Leonardo Express train from the Fiumicino airport to central Rome is very convenient and efficient. The train station has multiple options for buying tickets. The kiosks are easy to use but don't ask that woman in the brown smock for help - she will cost you one euro and will happily haunt you until you pay her.
When you dine in a restaurant in Rome many, but not all, will include a 'service charge' which to us is a gratuity. Check for this before you leave a tip unless the waiter was exceptionally handsome and double tipping is your delight.
Hop On - Hop Off busses are now in all the big cities in Europe. It can be a great way to get a first broad look at the city and once you have completed the entire loop, you can decide where to hop off first. Just be sure to keep cab money available in case you have a tight time line. These buses provide ear buds so you can connect to their tour sound track in multiple languages.
Be wary of the smarty-pants touts that claim they can get you to the head of the line or an audience with the Pope. Head of the line, maybe... but the Pope, not happening.
The Vatican is a must see if for no other reason than to stand face to face with some of the most exquisite art in the world. But be aware... they take security seriously and they don't take American Express. The €7 elevator ride to the dome of St. Peter's Basilica is worth every penny. From the roof top you get an excellent view of the Vatican grounds and statue level view of St. Peter's Square.
In Casablanca, you buy something with euros you get change in Dirham. And that's ok... the Moroccan King, like Elizabeth in England, has his young portrait on the money. Rick's Cafe does exist in Casablanca but it is not like the movie and according to our guide, the food isn't worth the effort. The Hassan II mosque is beautifully crafted, second in size only to Mecca and open to all people who wish to pray.