June 24, 2015

Americans Supporting the Death Penalty
For a nation that for centuries has had "In God We Trust" emblazoned across all manner of social dogma, literally and deep within American hearts, the question of capital punishment should be a no-brainer. 'Thou Shalt Not Kill' does not exclude an eye for an eye. Yes, Boston Marathon bomber Dzhokhar Tsarnaev and his brother did terrible things that resulted in senseless death and destruction but as an alleged nation of Christians, how do we stand before a just and forgiving God and sentence Tsarnaev or anyone to death. How do we teach our children that killing is wrong and killing is right and that all life is precious except those that we disagree with? Beyond the moral and religious implications of killing under the guise of 'capital punishment', how have we let ourselves believe that it serves any value? Think about it. If you are a proper Christian you believe that no matter how wretched your life's choices have been you need only ask God to forgive you, and when you die, you will sit at his right hand. Muslim extremists and countless others believe that there are riches and rewards galore for slaying those whom they believe to be 'unrighteous.'' So exactly how is capital punishment - punishment? It seems to me that rotting in a prison cell for the rest of your life is more punishment than a painless, antiseptic culling. I guess it all depends on what we believe happens to us when we pass from this life. But in reality, capital punishment divides us instead of binding us, it gives little suckle to the teats of the bereaved, it makes a mockery of any claim supporting 'the sanctity of human life' and like war, it rewrites the Bible, or any fundamental belief in God, to say... "Thou Shalt Not Kill Unless the President of the United States says it's OK." Aren't we better than all that.
April 27, 2015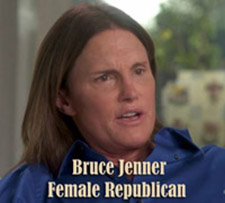 Back in the Limelight Again - Bravo Caitlyn
How sad and pathetic to see a man work so hard to regain minor stature in the main stream media. Attention grabbers, take note. Bruce (not the most feminine name) Jenner, once proud Olympic medalist and once removed Kardashian-in-law, is now reaching farther than most would to get his/her name back in the spotlight and make an 'honest' buck. Another woman trapped in a man's body... not original but more dynamic than just coming out gay. The proof of the pudding will come when he has his penis cut off and fashioned into a pseudo-vagina. We often hear of women turning to other women after their husbands are gone and their children are grown. It's a notable behavior that provides meaningful companionship without having to deal with a penis. Who will ever know the inner working of Bruce's mind. Perhaps he is just one more man who has become impotent and thinks it will be easier to roll on his back and fling his heels in the air. Gay or transgender - who really knows... but Republican? This is clearly a headline seeker and in respect to him/her we should just turn the other way and let him live the life he chooses. And of course his children and family support him, s/he stands to make millions selling his latest outrageous and most transformational tail. Capitalists applaud now.