Travel the Mayan Riviera

by Terry Kovarik
May 2016 - Andrew and I had a terrific 5 day adventure in the Yucatan, Mexico with our friends Cris and Dean. A long time resident on our collective bucket lists, the Mayan Riviera has been patiently waiting for our arrival and we did not want to disappoint.
Getting There
We pretty much pre-booked everything using Orbitz including air fares, Playa Del Carmen hotel and Mayan tour. We have used Orbitz many times and have never been disappointed with our choices. This trip was no exception. Being spontaneous on vacation is all well and good, if you have the time. But with only 5 days and 4 nights we wanted to spend as much time vacationing as we could and as little trying to figure out how to do what. Flights to Cancun are as varied as are choices of Dim-sum. We could have saved 6-8 hundred dollars if we had all the time in the world and didn't mind 14-18 hour flying times. Instead we chose 6 hours and one stop. And yes, while many people are embarrassed to say they booked a brief layover at the George W Imbecile airport in Houston, we were not (noticeably).
Travel Tips
Having your name on your airline ticket exactly match your passport can save you precious time.
Married couples with different last names are better off filling out separate custom forms. Explaining to a Mexican official that you are married isn't worth the effort of filling out separate forms. Tolerance isn't universal... yet.
Tips, tips, tips, small but frequent. Keep lots of little money to tip everyone. The locals are not shy about soliciting tips if you don't make the first move.
No exchange necessary. Everyone took dollars. Their exchange rates (tipo de cambio) were typically a tad lower than you might get from an ATM. Many ATM's only gave dollars. Having pesos can save you a little money but may not be worth the effort (math don't you know).
Saying 'no thank you' in a firm voice with a smile keeps the 'empresarios' at bay and your mind focused on your next margarita.
When leaving Mexico - the woman in charge of the gate is indeed in charge of the gate. She is the queen of that gate, the empress, top dog, numero uno, honcho. All the rules are her rules. If you argue with her she can easily send your stress level soaring as you do a 100 yard dash across the airport - so be sweet, be gentle and have your paper work in order. Her name is never Margarita.
We googled for airport transfers and pre-booking transportation from the Cancun airport to our hotel in Playa Del Carmen, about 35 miles south, turned out to be another very good choice. We used USA Transfers and got round trip private car from Cancun airport to Playa Del Carmen, door to door, for $120 USD plus tip of course. Very helpful , USA Transfers sent us an email with explicit instructions on how to get through the Cancun airport avoiding the myriad 'entrepreneurs' and right to their waiting arms. Very efficient. During our stay we communicated via email where we received a message the day before our return, double checking our flight status and pick up time. Now that's good service.

Staying There
For our base of operations we wanted a two bedroom ocean front condo which is so much more vacation friendly than individual hotel rooms. Thanks to Orbitz we found the El Faro Residences. It couldn't have been any closer to the sandy Caribbean beach and what a lovely view. Nothing but blue and turquoise water as far as you can see, and in the distance, Isla Cozumel with its shiny white hotels gleaming in the sun. The condo was about $220 per night and was as nicely equipped as any vacation home including the essentials like bottled water and Wifi. In the pictures you can see our first floor poolside suite where the pool water seems to just run right into the sea. Conveniently located, the El faro is only a block from the main 'tourist' street in Playa Del Carmen, 5th Avenue. An all-consuming pedestrian esplanade, 5th avenue is miles long with little more than shops, restaurants and bars and as an added bonus, every 133 feet there is either a souvenir shop or massage parlor. We managed to walk most of it during our stay. Like most tourist destinations there will be hustlers trying to sell you everything you don't need and more and Playa Del Carmen is no exception. The most frequent hustles were for Cuban cigars and massages. No matter where we were headed or how fast we were moving somebody was there hustling cigars or massages. No pressure though and trust me when I tell you not to bother coming up with clever lines to blow them off, they have heard them all and have a dozen wearying come-backs.
Gay Playa
Not a well advertised gay destination, Playa Del Carmen, or Playa as the locals call it, is host to young and old from all over Mexico and the world. If your gaydar is working you won't have any trouble finding friends just about anywhere you go. We happened to find the only advertised but very discreet gay bar, dance club in Playa - called 'Club Gay 69'. Did I mention discrete? Perhaps not by name but we found it amongst a souvenir stand in an ally behind the 7-11 and apparently it is only open on the weekends.
Playa Del Carmen seems peaceful and friendly which it most certainly is but underneath all the seaside glitz and tequila there is a dark side. Havan® cigars, guaranteed to be the finest Cuban cigars in all the Caribbean, they are actually being rolled in the back room by old ladies with green fingers. One vendor shows them to you in a nicely appointed walk in humidor - 5 small cigars for $100 USD (some room to bargain). Another vendor has the same packaged cigars piled high in a plastic laundry basket on the floor... perhaps a little cheaper. Buyer beware, there are no Havana cigars at the beach.
Playing There
We realized day one that we would never come close to seeing and doing everything in our short 5 days so what do smart boys from San Diego do? We prioritize, then we draw straws and finally when everything else fails we go for the crap shoot. There were only two requirements on our agenda - the Mayan ruins at Cobá and Chichen-Itza (in that order) and searching for the perfect margarita. Dean had as his highest priority climbing the Nohoch Mul pyramid at Cobá so we made sure to schedule that well ahead of time. The rest of us were equally enticed but happy to go where the flow offered the least resistance. We pre-booked an all day private tour through Orbitz with a company called Trip to Mexico®. A bit pricey at nearly $300 per person including all fees and lunch with Mayan boys... tips and margaritas not included. They did a good job for us and earned our endorsement. Our guide Luis was knowledgeable and accommodating but he had an agenda to impart a certain amount of information to us and at times its hard to stand in front of a monument and listen to history when you want to be touching and photographing. Recommendation for any private tour: Negotiate a certain amount of personal time for exploring, photography and just absorbing what you see. That way your tour guide won't be offended if you just wonder away. Trip To Mexico Customer Service - 52 (998) 123 7000 - reserve@trip-to-mexico.com
Cobá
The ancient Mayan ruins, remnants of mighty civilizations in the Yucatan, are a combination of mystery and myth. Little is really known about this lost culture as little documentation was left behind. Hieroglyphs and pictographs seem to tell some of the story but are largely open to myriad interpretations. And as the stories get told they get re-interpreted and twisted, made more juicy and intriguing suitable for any situation. Our excellent tour guide Luis told us what he knew and was very clear that much is conjecture based on limited historical fact. In Cobá - circa 700 AD, applied historical references are many and exhausting to the ear but how fun it is to just sit back and imagine the ancient times for yourself. Of great interest and without clear factual details are the ball courts found in Mayan cities all over. Some call them 'death courts' as the consequence of winning may be losing your head in honor of the gods, self-imposed blood sacrifices resembling early circumcisions (oy) and who knows what the did to the losers. Thought to be a precursor to basketball, the Mayan ball games leave your imagination wide open.
Nohoch Mul - the tallest in the Yucatan has 120 steep, small steps to the temple top where the view is spectacular. One of the few pyramids that allow visitors to climb, Nohoch Mul is not for the dizzy inclined, at least that's the story I am sticking with. Andrew and Dean made it all the way to the top. Andrew climbs like a mountain goat, quick and sheer footed while Dean, a bit less agile, was clearly determined and beamed from ear to ear with his accomplishment. Cris and I marveled at their chutzpah, climbed a dozen steps for a group photo and returned to ground level to continue our search for the perfect margarita. Every tourist attraction, even those of great archaeological significance, wouldn't be complete without the gift shops which at Cobá were dozens nay scores of tables stretching along the tree lined roads. For the souvenir-a-philes, there are plenty of Mayan based hand crafts to choose from. Nohoch Mul and most of the Cobá ruins are 2 KM from the entrance and we traveled there by bicycle. That is Andrew and I rode bikes. Cris Dean and our not so butch tour guide Luis sat in the basket of a tricycle peddled by a local (tips not included). Bicycle riding is a particularly good workout for your prostate if you haven't ridden one for sometime and another fun way to see the ancient Ceiba tree lined roads. Be sure to watch out for the poison trees that are scattered amongst the jungle flora - we are told that they have black sap that can ruin your day or all your days.
Cenote Ik Kil
Exploring Mayan ruins can be exhausting so one needs refreshment, sustenance and of course, margaritas. We stopped at a beautiful garden spot called Ik Kil Cenote which is a giant sand stone sink hole dating back to ancient times used as a fresh water reservoir and today, for swimming. The facility is managed by natives of Mayan blood who service the swimming opportunity and have a buffet style restaurant, margarita bar and beautifully managed gardens. Andrew was the only brave swimmer among us but we were there to cheer him on from above. The buffet lunch was most adequate but certainly not exciting. The Mayan men, typically short in stature with wide noses, were gracious and provided excellent service. The margaritas got one and a half thumbs up. Of course on a hot day when you are worried about who is going to cut off your head at the end of the ball game, any margarita will do in a pinch. Check our photo library for all the fun pictures and a little video of Andrew's dive style.
Chichen Itza
As one of the 7 wonders of the ancient world, the Mayan city of Chichen Itza was dazzling to behold. Thriving from 400 AD until the 13th century, Chichen Itza disappeared into the jungle along with most of its secrets. Only a small portion of what exists in and around the site is open to the public. The rest is being explored by archaeologists and other Mayan pundits and will be added to the public space eventually. Most of the Mayan ruins in the Yucatan have only been know about in modern times for around 100 years. Chichen Itza has had a lot of restorative work done where the ruins at Cobá have not. The number of tourists that visit Chichen Itza also far exceeds those at Cobá. And like Cobá, Chichen Itza lore and legend are much more mystical than factual. The quintessential Chichen Itza icon is the castle, 'El Castillo' or grand pyramid or the Temple of Kukulkan as the Spanish called it. Other amazingly preserved buildings include the Temple of the Warriors, the Group of the Thousand Columns and the Great Ball Court.
As far as we know they had no cable TV in those days so playing games to the death seemed like a good way to spend an afternoon. The magnificent ball court at Chichen Itza featured some amazing engineering which included gently concave walls that acted as a sound amplifier so the home team and the visiting team could communicate with each other 100 yards apart. Like Cobá, little is really known about the rules or consequences of the Mayan ball games. Looking at well preserved carved panels in many of the buildings it suggests that players didn't all leave the court intact. The Toltecs, who followed the Mayans, were alleged to be an even more violent people who loved to cut your head off and parade it on a stick. In fact there is a building at Chichen Itza called the Wall of Skulls. This apparently was the precursor to the Hollywood walk of fame as it may have been the winning team captain that was sacrificed. Rumor has it that today's posole (Mexican corn soup) had its origin in the ancient Mayan and Toltec worlds where the meat was human sacrificial and to taste the soup would bring you closer to god. I can't imagine what they did to finicky eaters or vegans. It was really hot the afternoon we were there and we were all wondering how the ancient Mayans keep hydrated. We walked all around the park and there were 743 craft and souvenir kiosks but no ice cold water peddlers or margarita bar. Perhaps the Mayans simply dried up from lack of water and moved in search of the perfect margarita.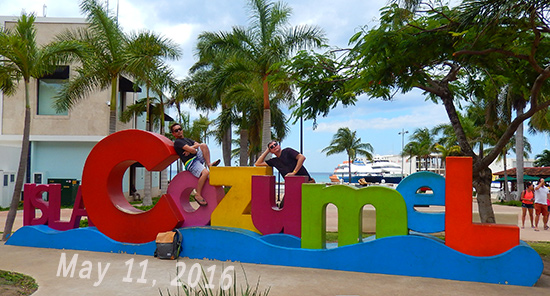 Just across the waves from the Playa del Carmen beaches is the island of Cozumel. Believed to have been founded by the Mayans in the first century, Cozumel is a mecca for tourists into scuba diving and snorkeling. Traveling the island by 4 wheeler and motorbikes is another popular opportunity. We enjoyed a walk along the embarcadero and a stop for a little lunch and a margarita or two and then a walk along the coast followed by a little second lunch and margarita or two. My favorite part of the Cozumel experience was the boat ride to and from the main land. The seas were a bit choppy due to big winds from the east and the boat rocked and rolled along with the musical stylings of on-board entertainer Stevie Goldberg. Wish I had a picture of him - the perfect amalgam of Stevie Wonder and Whoppi.
Sum it Up
We had 5 days of fun and sun on the Mayan Riviera and crossed a few things off our bucket lists. From our first meal at the Blue Lobster to our last at Margaritaville at the Cancun airport we had terrific food, good wines and fabulous margaritas. Everything we pre-booked was delivered as advertised, on time and hassle free. We spent our 5 days having fun exploring a new place and brought back a lot of great memories. Traveling with friends is the way to go. Could we have done this trip for less money? Certainly, but when you consider that time is money it seems to me that we made good choices. Thanks guys.
That's about it...