Lao New Year - Festivities
One of the highlights of the LCCC Lao New Year Gala was Carol Manisouk and friends performing a surprise candle dance.
Andrew is once again busy with festival stage decorations and a host of family arts and crafts to highlight this year's Lao New Year. We will have a full photo album to share.

Festivities include a 2 day celebration at the
Market Street Plaza - April 5 & 6
2 day tradidtional festival at the Wat Lao Buddharam
Or call and come party with us...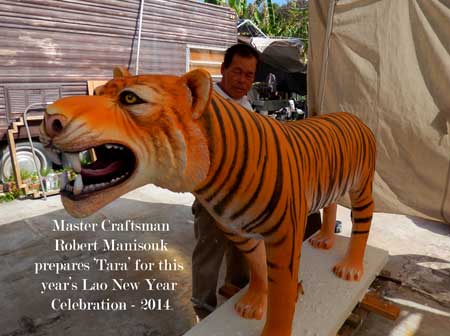 Robert Manisouk (Andrew's Dad featured here) and his brother Van have fashioned a beautiful tiger for this year's Lao New Year celebration. Hand sculpted and painted she is getting the finishing touches and ready to adorn the parade float.
Chloe named the tiger 'Tara'

Thanks to our excellent friends and family for another great oscar party.
Merry Christmas Family and Friends
Here's how our December 25th rolls - Updated: December 26th - 1530 PST
All the photos we took are in our photo gallery here.
0830 - Andrew and Terry are up and starting their day - gifts are exchanged - the coffee is ready
0930 - Andrew busy prepping for our 3:30 pm arrival of family and friends. Peeling shallots and garlic and only crying a little. We are in charge of the prime rib, smashed potatoes, snacks and beverages... Andrew's family and friends will be bring 832 other things. A little rum in the Christmas coffee is particularly pleasant.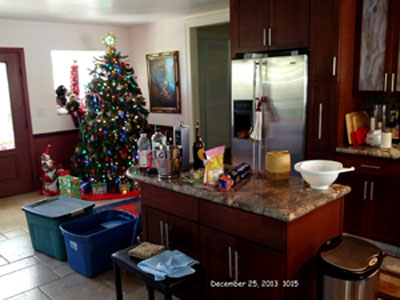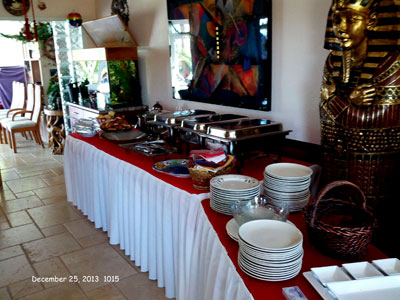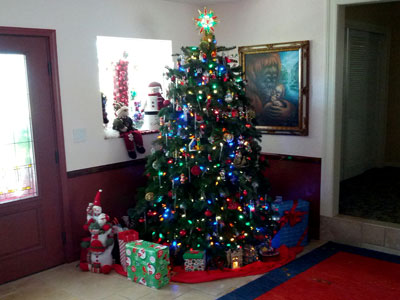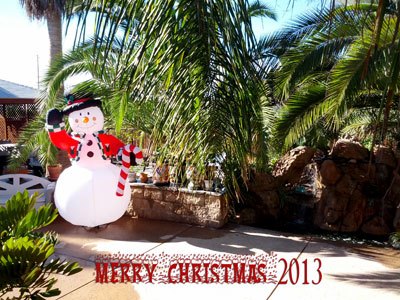 Now this is the way to make mashed potatoes... just the right amount of garlic, onion and elbow grease, lite, of course...
By 3pm guests started arriving and by 4:30pm we were rolling in food and festivities. Two tables weren't enough to hold all the turkey, ham, salmon smoked and backed, prime rib, fire shrimp and all the sides. Kevin was our bartender again this year and he kept us singing with his delicious cranberry shots.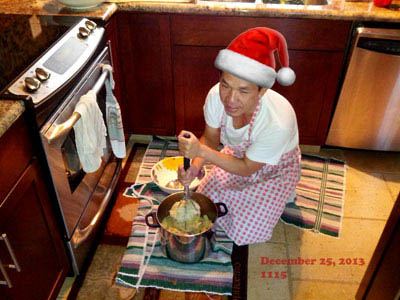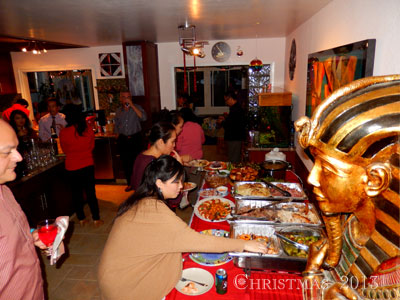 The white elephant gift exchange was more like a trip to the kitchen or camping aisle at your favorite department store. Blenders of various design lead the pack. How unusual, and so polite was the group that very little stealing occurred. Must have been the mellowing effect of the cranberry shooters.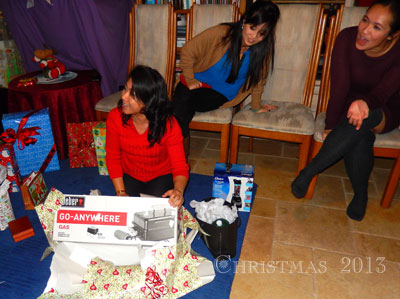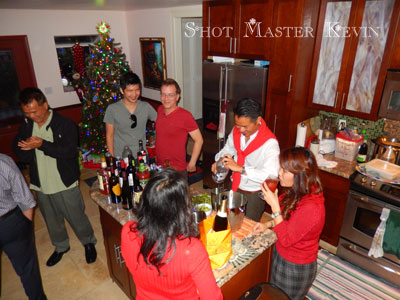 Thanks to all of family and friends for another lovely Christmas on Tulip Street. Some of our guests skedaddled before the annual group photo but the smiling faces tell the story. All the photos we took are in our photo gallery here.
2230 PST - the last guest departed. Grateful we are indeed.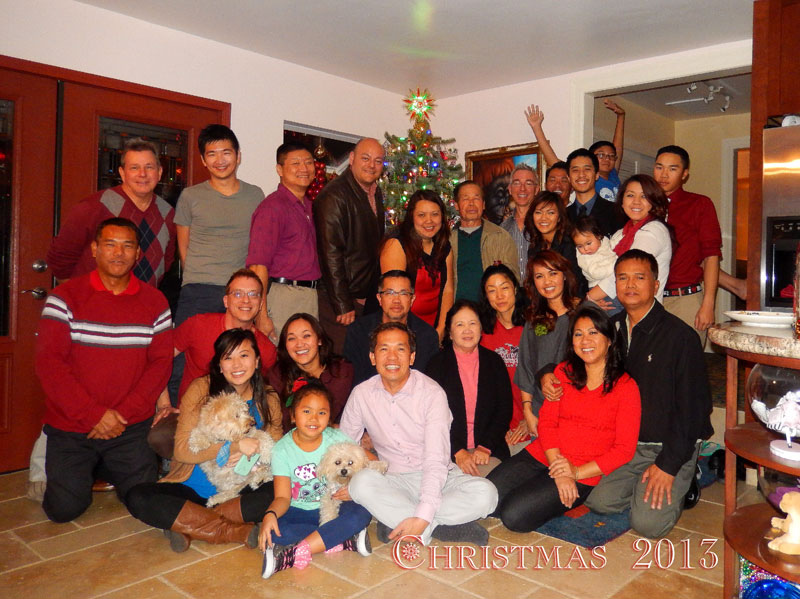 December 5, 2013 Nelson Mandela's Legacy "No One is Born Hating. If they can learn to hate they can be taught to love." -

Southeast Asia 2013
Our honeymoon is now just a memory. Andrew and I completed our 4 country tour of Southeast Asia in style.
It started with a quick trip to Bangkok - and by a quick trip I mean 19 hours via Taipei and then on to Siem Reap, Cambodia. If touring the remains of the ancient Khmer civilization isn't on your bucket list, it should be. Angkor Wat and the other fabulous Hindu and Buddhist temples, palaces and shrines are Cambodia's largest tourist draw and amazing examples or 9th - 12th century art and architecture. The history of the rise and fall of the Khmer civilization is as awe inspiring as the remains of the cities.
You can google the details that interest you and enjoy our photo albums. Cambodia pictures are loaded, Laos, Thailand and Myanmar coming soon.
October 14, 2013 - Andrew and Terry are Married in San Diego
Reuters - AP - CNN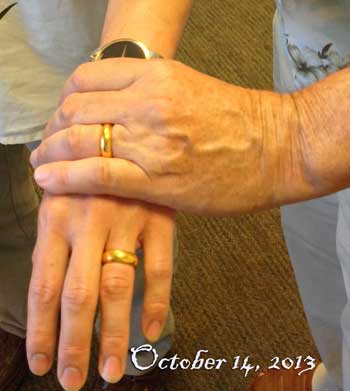 It took a lot of years of pulling fence posts out of the butts of enough Americans to move the cause for marriage equality forward and finally in San Diego, California, on a beautiful Columbus Day morning, Andrew said I do and I did too. We chose October 14th for our marriage because it is also our 12th anniversary. Our commitment to each other was made many years ago and the civil ceremony we just had ensures our continuity within the legal system and comes with nifty jewelry.
The civil ceremony went something like this:
We arrived at the San Diego County Admin building downtown at 1100 for our scheduled event.
After passing through the airport like security we arrived in room 273.
Andrew untied me.
We met with a professional albeit less than friendly clerk who completed the paperwork and almost smiled at the end of our 10 minutes together as she extended her hand and said ..."It was nice to meet you."
We gathered with our friends and witnesses Art and Cris and with the Deputy Registrar for Marriage who performed the ceremony. A lovely young woman dressed in a black judges robe and 4 inch red pumps officiated the ceremony which lasted about 5 minutes and included the words that typify American weddings.. love, honor and cherish. Words that only begin to exemplify our relationship. She left out 'obey' and 'till death do us part' but we filled in the blanks.
Exit the wedding parlor to the San Diego County gift shop for wedding keepsakes and parking validation. Who'd a thought!
We do want to thank the tireless efforts of the HCN, the ACLU and countless other teams of people for fighting, not just for marriage equality, but for equality for all Americans. Like the chronic stalemate in Washington politics, our selfishness needs better control. As Andrew and I are fond of saying... "Why should you care if your neighbor wants to marry a hippopotamus as long as he doesn't try to make you do it and he respects your right to marry whom you choose. If more people would spend more time taking good care of themselves instead of worrying about what their neighbors are up to we would all be better off."
No wedding gifts please. Andrew is gift enough.

AIDS Walk 2013

Check out our AIDS Walk 2013 Web Page

Thanks to our many friends and supporters - Andrew and I raised just over $2000 this year and our team, Guys Like Us, raised almost $9000. The Sunday morning walk at the ungodly hour of 0800 was most successful. That means we all made the 5K walk without fainting or shouting colorful metaphors. Then it was off to Sunday Brunch at the Red Door in Bankers Hill. Collectively we gave it 1.5 thumbs up - the atmosphere and service was very good and the food, satisfactory at best. Would we go back again? Perhaps. It's hard to argue with bottomless mimosas for $8.



Here's How You Eat Cake in France
Andrew's sister Kate with husband Peter and cake expert son Aryn (pictured here) are discovering that things in France are quite different than they are in America. Take cake eating, for example, in France it's an art for the nose, lips and chin much more so than fork or spoon. And who better than a 2 year old to adapt so quickly to the French way.
Serviette not required!
A Tornado with Honors - Grand Nephew Tyler Shane Cook Graduates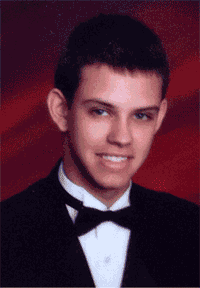 June 6, 2013
All of Agua Clara (Clearwater) Florida is on their feet tonight celebrating the achievements of the Clearwater High School, Class of 2013. Among the honorees is our Grand Nephew Tyler Shane Cook, graduated Magna Cum Laude which is Latin for "never having punched out his homeroom teacher." Diploma in hand, Tyler now has the credential to get any job that involves a paper hat. And with the honors distinction he should be afforded the option, day one, of working the front line or the drive thru window.
As a handsome young tornado, Tyler will face many challenges. Should he go to college or just stay home until he wins the lottery? Should he join the Navy and experience a girl in every port or jump a tramp steamer and tour the world? Should he work at Chick-Fil-A where the senior executives are right wing homophobes or at Jack in the Box where "E coli is not on the menu." He has long legs, perhaps the ballet or the Heat.
Whatever he chooses, we know Tyler won't settle for anything less than his own dreams. Andrew and I will watch Tyler's career unfold with great anticipation. After all, he shares the family blood line. And yes, we willl take fries with that!
Nephew Corey Nambounmy is In the Army Now
Corey is in Army Boot Camp at Fort Jackson, South Carolina where their motto is "Victory Starts Here" and rope climbing replaces cable TV. In boot camp - you start by learning basic skills like crawling backwards, up hill and under barbed wire. Something you will want to be very good at if you plan to escape from prison or slip past a really tough boss. How nice of the Army to supply a photographer so all the boots can show their proud families their new tricks.
In the pic to the left Corey shows great composure as he attempts to negotiate this horizontal rope suspended 10 feet in the air. The look on his face is confident and notice how his left leg dangles to provide just the right balance. This is another important skill to learn just in case you can't get that last pair of pants off the clothes line.


Infamous Army Quotations

No bastard ever won a war by dying for his country.
He won it by making the other poor dumb bastard die for his country.
Attributed to General George Patton Jr.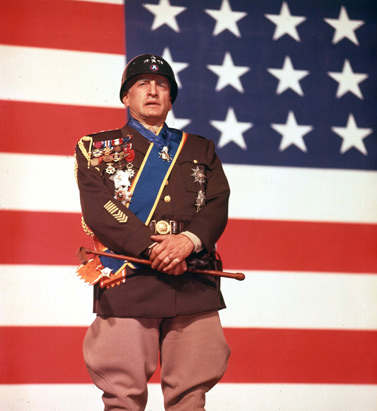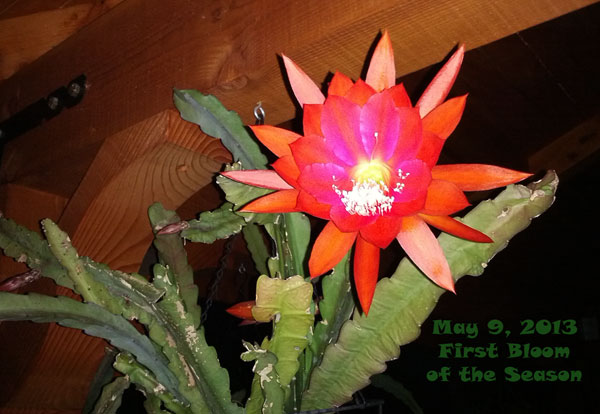 Orchid Cactus "epiphyllum" if you will, bloom at night, the colors are most vivid and flowers are as big as your open hand. This one has the faintest smell of Old Spice cologne - or then again maybe its just the neighbor showing off Christmas presents from 1976. In any case they are easy to grow - many varieties have lovely floral scents and this time next year we should have 5 differnt colors blooming.
Sadly the blooms only last a day or two tops. In the morning hummingbirds and bees will suck them dry and make way for the next bloom. Looks like our crop of epi's will have about 25 blooms this spring.
Cuttings? $7.50 a pop.
Welcome Joseph Michael Trezek - April 22, 2013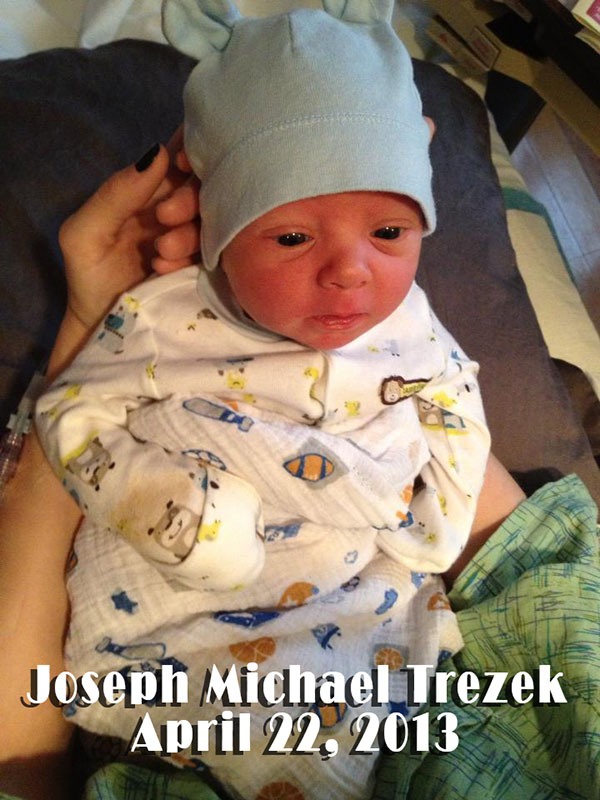 Another sweet bundle of joy joins the extended family thanks to a well timed stork and scheduled OBGYN. Modern health care is so amazing. It won't be too many more years until there are drive though delivery units... beep twice for a boy and three times for a girl. And on your way home stop next door for a latté and smart water. Hydration will still be all the rage.
We wish Joseph, Joey, JoJo, and all the other things people will call him in his life a smooth journey. In his father's own words, life is what you make of it. We know his loving family will give him every opportunity to blossom into the very best man he can be. Andrew and I will be around to watch as his little life unfolds.
The world seems like a harsh and dangerous place these days but it isn't any more so than it was back in the 1950's when I was just a sprout. The only difference is that we didn't have instant global news communication so we didn't know what was happening over there. We grew up enjoying the good things around us... the love of family and friends and of course the hardship of walking ten miles through the snow to school each day. Oh wait... that was Lincoln wasn't it.
So Happy Birthday Joseph Michael Trezek - Welcome to the family. We look forward to meeting you in person and telling you funny secrets about your dad.
Happy Lao New Year


Andrew and his family are deep in Lao New Year celebrations. By the Buddhist calendar this begins the year of 2556. The photo album is on the way.
The North Koreans are helping to celebrate by decorating their senior officers in the traditional North Korean style. The medals may seem a bit ostentatious but they serve a practical purpose. Under one of those medals is a GPS device so the monarch can know where they are, or at least where their pants are. at any given moment. Under one of the other medals is a tiny bomb which can be triggered by Un himself in the event a general gets a little too independent... hence the look of unquestioned loyalty on the generals faces.
Spring is Barbra's First Bloom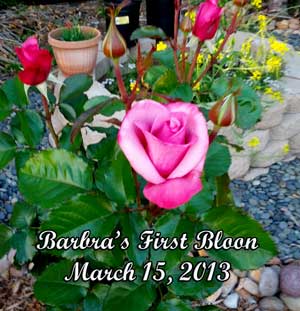 And yes, it smells as lovely as it looks. Less than 2 months from bare root planting to first bloom. We know now that spring is indeed here. This hybrid tea rose is an example of some of the best that mankind can deliver. Simple, sweet and imparts images of love and kindness. I can't decide whether to take the first bloom into the house or let it mature and evolve on the vine.
The spring of 2013 brings us many firsts. My first mortgage just refinanced at 2.9% and thanks to HARP, with no hassles and little paper work. The Catholics saw the first pope in 600 years step down and then elected a new pope, the first non European and allegedly, the first to be certified to have never had a 12 year old alter boy. We are also experiencing the first time that North Korea's egomaniacal dictator has convinced us that his petty attempts at intimidation are indeed a threat, to the region and to the world, and significant enough to cost the American taxpayers a billion or more to defend. Where is Reagan with his 'star wars' when you need 'em. Seems Kim Jong Un hasn't had his full 15 minutes of fame yet and will continue pressing until someone slaps him down. I cringe at the though of what that will cost in lives and dollars. At least their weapons of mass destruction are verifiable... or so we are told. And what of Dennis Rodman? Is he North Korea's first large black imperial palace party boy?
Ah... spring.
Family Time in Florida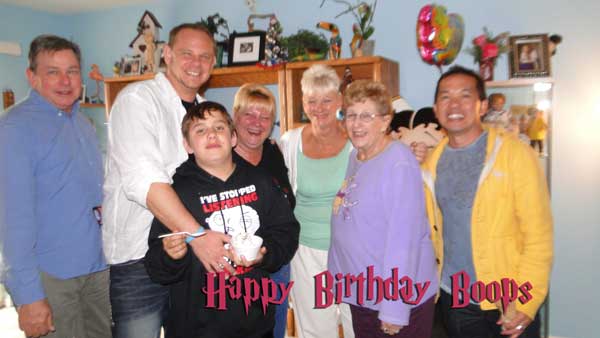 So the Mother turned 85 on February 28 and we gathered in Florida to celebrate. Sherry and Janet hosted the party at their Indian Rocks Beach condo where we got to meet some of Mom's friends and validate the rumor that Janet can indeed cook with a wine glass in one hand and a spoon in the other. But don't bother asking her if she would like some help. Janet is a one woman chef. When she is done, the kitchen is all yours.
Andrew and I also managed a few days in Orlando where we played tourist and did the whole Universal Studios adventure. We are both big fans of the Harry Potter fantasy and getting to tour Hogwarts was a lot of fun. This is a must for JK Rowling fans where the attention to detail is quite amazing and their Disneyesque use of scaled proportion outstanding. The butter beer is way too sweet and delicious for my taste and pumpkin juice... well, best leave that to the goblins.
Mom had a great time visiting with family and friends as did we all. May we all look so great and have so much zest for life when we are 85. And even though the weateher was cold and rainy at times we still we had a very good time.
Check out our photo slide show.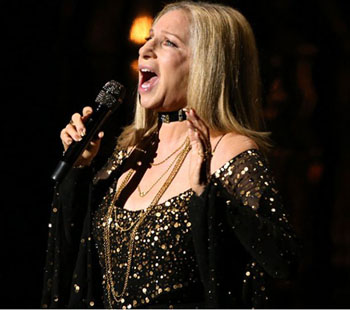 So we thought Seth MacFarlane was a terrific host and his opening routines were great - Willian Shattner, "Boobs" the who nine yards. And dancing with Joseph Gordon-Levit and Danial Radcliffe - what a hoot.
Barbra's moving tribute to Marvin Hamlish got me all faclempt... and thanks to our hose full of guests for bringing it to everyone's attention.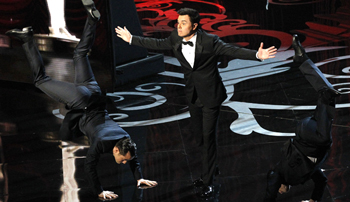 Our 9th annual Oscar party was a hit and next year we will go with 2 TVs so the roudys can kick it up without offending the meek and mild.
Birthdays... You simply Can't Live Without Them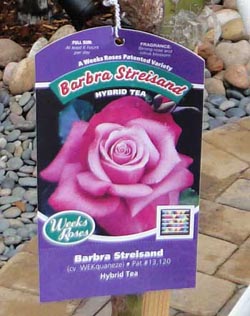 We grow up learning to adore the accolades and heartfelt gifts that accompany our annual march to the grave and as I now pass the twelfth lustrum I tell you that those feelings don't really change. Maturity and wisdom don't accompany age in any automatic way but rather they are a blessing to those who actually learn from life's many lessons. The most profound lesson I have learned through the years is to take very good care of the most important things in your life.  As Andrew and I celebrate our twelfth year together I am reminded every day of how much better my life is with Andrew at my side and believe me when I say that I take very good care to make sure that we will be as one, tomorrow. The second most profound thing I have learned is that birthdays are only as good as you make them yourself. No matter how much you are loved by others, your birthday will only really shine if you take control. When someone asks you what you want for your birthday… tell them!  When you are asked what you want to do on your birthday… tell them! It's the only real way to keep you from going face first into the pond.
So for my birthday this year we will celebrate at home with our friends, Andrew's divine Scallop Curry and Crème Roasted Salmon… our friend Cris' sour Pork soup… some fine Scotch and Champaign, no doubt a surprise birthday cake somewhere along the line and the newest member of our garden, the Barbra Streisand Tea Rose… a tree rose of divine purple and sublimely dense fragrance. Thank you has new meaning today.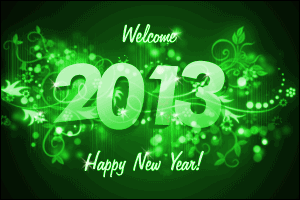 Now that we have avoided tumbling down the fiscal cliff we can start the New Year by thanking the Republicans in Washington for retracting the reality fence post in their collective butts by a whopping full millimeter. Thank You Republicans! And if you are one of the millions of Americans who enjoy paying more and getting less, be sure to fire off a thank you letter to the men and women you voted into office, on both sides of the aisle.
Thanks to the miscalculating Mayans there is a trip to Florida in our 2013 plans to celebrate another milestone birthday. You know what they say - after 80, each year without a headstone is a milestone. And if we play our cards right and don't get caught in the crossfire of WWIII there might just be a Mediterranean cruise for us this fall.
Check out our holiday party pictures in the photo gallery. At the End of the World Party The Mayan King was a dead ringer for one of us. Re-gifting was brought to a new level this year and Andrew put out a festive holiday spread that will haunt our waistlines for months to come. It is always our pleasure to share and as 12 wanes into 13 we are again reminded of how fortunate we are to have such excellent friends and loving family.
Thanksgiving in Puerto Vallarta

Andrew and Terry with friends Cris, Dean, Brian and Michael spent 5 days on the beautiful warm beaches in Puerto Vallarta, Mexico. A little time share negotiating, a little zip line in the jungle and a lot of beach tequila made for a great holiday. We had Thanksgiving dinner at the River Cafe, a lovely river side, mostly outdoor restaurant where medallions of turkey with cranberry compote and sage potatoes highlighted the menu. This image was taken from our Emperador Hotel balcony.
Check out our slide show.
The newest member of our family is born on November 30, 2012. Proud parents David and Jamie have waited a lifetime for their miracle baby and the state of Arkansas is once again enriched beyond measure.
Sister Sherry is now, finally a grandmother but I don't recommend calling her 'granny' just yet.
Andrew and I can't wait to meet Callie in person.
Check out the family photos on Jamie Cook's facebook page.