Getting Ready for Christmas Parties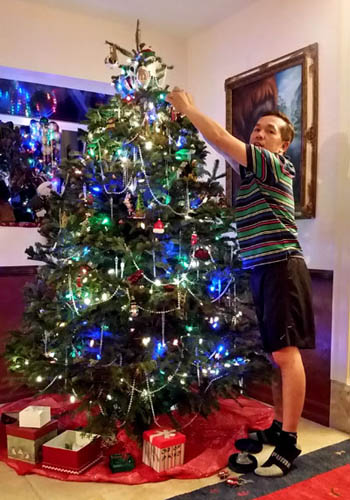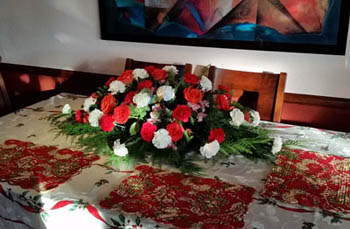 Andrew is busy getting our home ready for the holidays with tree trimming and flower arranging. Click the Toyland parade and see Andrew and his festive lao Community in the parade.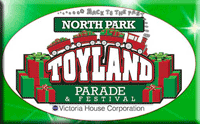 Andrew
Excited to celebrate our 14th anniversary on October 14, 2014
While we were touring Lisbon in August - Andrew happened upon this lonely statue and took great pleasure in filling in for her arms and head - at least for a little while. Passersby were enamored by Andrew's dedication to that forlorn statue once I explained the situation. Who would have thought that all those miles away people would know what 'He was recently released from Bellevue' meant?
Happy Anniversary Andrew - without a doubt you are my absolute favorite. Without you I would have to do all the statue work myself.....
Summer Vacation - Mediterranean Cruise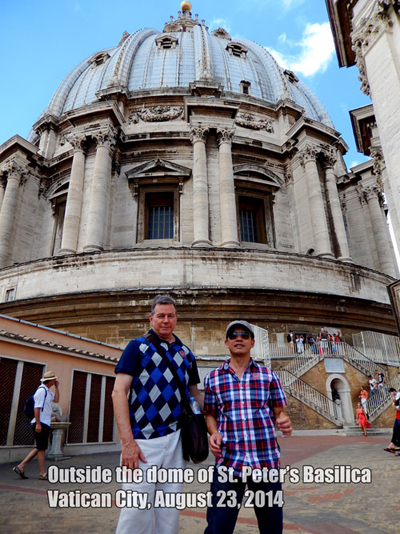 Gotta love vacations even when you spend three hours waiting for the Pope and he never shows. So we survived two weeks in Europe and returned home all the richer for having stood face to face with amazing art, history and colorful people.
Our photo albums are loaded -
Our Itinerary and Photo slide Shows
Rome
Colosseum, Roman Forum, Palatine Hill, Trevi Fountain, Pantheon, and 40+ piazzas, pizzas and glasses of local wine.
Vatican City
Vatican Museum - St. Peters Square and Basilica - and Sistine Chapel - OMG. The art is breathtaking.
Savona, Italy to Monte Carlo
Bus ride into France and on to Monaco and Monte Carlo. Oh how nice to be rich.
Barcelona, Spain
Christopher Columbus got lost there too. Tapas and local wine, divine. Very roman architecture.
Cadiz, Spain
Beautiful beaches. Much more Spanish than Roman in language and local architecture with French and Portuguese influences.
Casablanca, Morocco
Islam is apparent everywhere. In place of myriad churches stand mosques of equal grandeur. The local cuisine, Tajines, marvelous.
Tangier, Morocco
Camels, French and British influence, excellent coffee and picturesque hills overlooking the Mediterranean. Less Islamic than Casablanca. From the top of the hill you can see Africa and across the straight of Gibraltar, Spain.
Lisbon, Portugal
Sprawling coastline, Bay Bridge by the same designers of the Golden Gate bridge, magnificent stonework and architecture, new and old. Seafood, Sausage and Portuguese Beer, oh my.
Valencia, Spain
The Torres family has a long history there and the city is beautiful. Old sea facing fortresses and modern architecture using rich stone and brick. Like every city we visited, except Monte Carlo, you can't swing a cat without hitting a church or mosque.
Travel Tips:
No matter how many people get in your way while you're taking pictures, don't yell - 'photo bomb.'
Italians are culturally warm and friendly even when their conversations seem loud and animated. They clearly have a different concept of personal space than we do. Don't be offended if you get squeezed tightly on a crowded bus or elevator or bumped in a cafeteria line. Yes, like France, there is no deodorant in Italy.
The Leonardo Express train from the Fiumicino airport to central Rome is very convenient and efficient. The train station has multiple options for buying tickets. The kiosks are easy to use but don't ask that woman in the brown smock for help - she will cost you one euro and will happily haunt you until you pay her.
When you dine in a restaurant in Rome many, but not all, will include a 'service charge' which to us is a gratuity. Check for this before you leave a tip unless the waiter was exceptionally handsome and double tipping is your delight.
Hop On - Hop Off busses are now in all the big cities in Europe. It can be a great way to get a first broad look at the city and once you have completed the entire loop, you can decide where to hop off first. Just be sure to keep cab money available in case you have a tight time line. These buses provide ear buds so you can connect to their tour sound track in multiple languages.
Be wary of the smarty-pants touts that claim they can get you to the head of the line or an audience with the Pope. Head of the line, maybe... but the Pope, not happening.
The Vatican is a must see if for no other reason than to stand face to face with some of the most exquisite art in the world. But be aware... they take security seriously and they don't take American Express. The €7 elevator ride to the dome of St. Peter's Basilica is worth every penny. From the roof top you get an excellent view of the Vatican grounds and statue level view of St. Peter's Square.
In Casablanca, you buy something with euros you get change in Dirham. And that's ok... the Moroccan King, like Elizabeth in England, has his young portrait on the money. Rick's Cafe does exist in Casablanca but it is not like the movie and according to our guide, the food isn't worth the effort. The Hassan II mosque is beautifully crafted, second in size only to Mecca and open to all people who wish to pray.
The New Tiger Trails at Safari park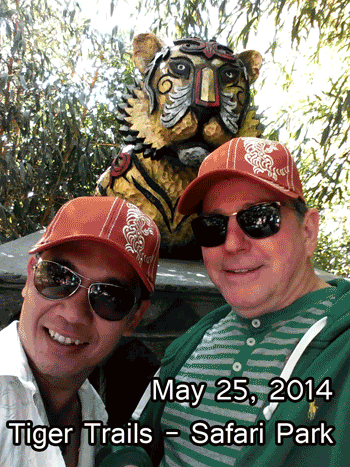 Sunday, May 25, 2014
Members breakfast and tour of the new Tiger Trails exhibit at the San Diego Safari Park is a great way to start any Sunday. Zoo membership provides a lot of perks and one of them is opportunities to visit the park early, before the crowds. Andrew and I got up at the crack of dawn, OK actually it was more like crack and a half, but it was still early. The tigers had not yet been fed and they were out and about in their beautiful new habitat... a touch of Sumatra. And lucky we were because when the park officially opened an hour later the crowds descended like hecklers at a Sarah Palin rally.
If you remember the former tiger exhibit at the park then you remember how rare it was to see one of the big cats... and when you did see one it was hard to tell if they were real or Disney animatronics. Well that's no longer an issue at the Safari Park. Tiger Trails, a must see. Check out the live Tiger Cam.
First Epi Blooms of the Season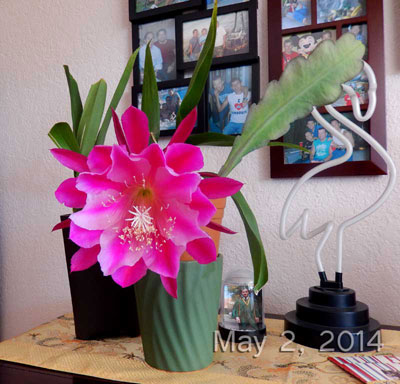 Enjoy them while they last, which is one or maybe two days. Even with the most extreme end of April we have seen in 900 years our Epiphyllums , AKA orchid cactus, start their annual bloom the first week of May.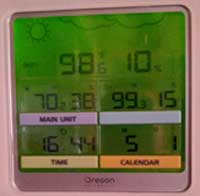 They typically bloom at night and for some species the flowers bloom and fade in the same night which of course is where the saying 'if you snooze, you lose' comes from.
Ours seem to last about two days which better compensates all the care and anticipation.
Lao New Year - Festivities
One of the highlights of the LCCC Lao New Year Gala was Carol Manisouk and friends performing a surprise candle dance.
Andrew is once again busy with festival stage decorations and a host of family arts and crafts to highlight this year's Lao New Year. We will have a full photo album to share.

Festivities include a 2 day celebration at the
Market Street Plaza - April 5 & 6
2 day tradidtional festival at the Wat Lao Buddharam
Or call and come party with us...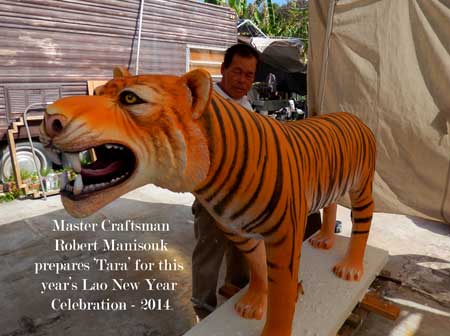 Robert Manisouk (Andrew's Dad featured here) and his brother Van have fashioned a beautiful tiger for this year's Lao New Year celebration. Hand sculpted and painted she is getting the finishing touches and ready to adorn the parade float.
Chloe named the tiger 'Tara'

Thanks to our excellent friends and family for another great oscar party.
Thanks to all of family and friends for another lovely Christmas on Tulip Street. Some of our guests skedaddled before the annual group photo but the smiling faces tell the story. All the photos we took are in our photo gallery here.
2230 PST - the last guest departed. Grateful we are indeed.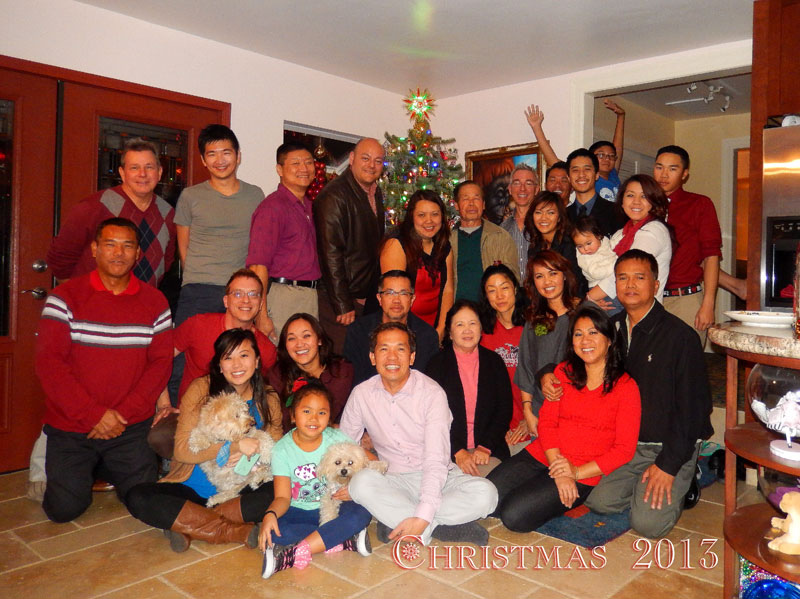 December 5, 2013 Nelson Mandela's Legacy "No One is Born Hating. If they can learn to hate they can be taught to love." -

Southeast Asia 2013
Our honeymoon is now just a memory. Andrew and I completed our 4 country tour of Southeast Asia in style.
It started with a quick trip to Bangkok - and by a quick trip I mean 19 hours via Taipei and then on to Siem Reap, Cambodia. If touring the remains of the ancient Khmer civilization isn't on your bucket list, it should be. Angkor Wat and the other fabulous Hindu and Buddhist temples, palaces and shrines are Cambodia's largest tourist draw and amazing examples or 9th - 12th century art and architecture. The history of the rise and fall of the Khmer civilization is as awe inspiring as the remains of the cities.
You can google the details that interest you and enjoy our photo albums. Cambodia pictures are loaded, Laos, Thailand and Myanmar coming soon.
October 14, 2013 - Andrew and Terry are Married in San Diego
Reuters - AP - CNN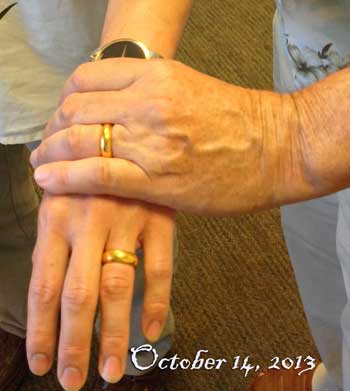 It took a lot of years of pulling fence posts out of the butts of enough Americans to move the cause for marriage equality forward and finally in San Diego, California, on a beautiful Columbus Day morning, Andrew said I do and I did too. We chose October 14th for our marriage because it is also our 12th anniversary. Our commitment to each other was made many years ago and the civil ceremony we just had ensures our continuity within the legal system and comes with nifty jewelry.
The civil ceremony went something like this:
We arrived at the San Diego County Admin building downtown at 1100 for our scheduled event.
After passing through the airport like security we arrived in room 273.
Andrew untied me.
We met with a professional albeit less than friendly clerk who completed the paperwork and almost smiled at the end of our 10 minutes together as she extended her hand and said ..."It was nice to meet you."
We gathered with our friends and witnesses Art and Cris and with the Deputy Registrar for Marriage who performed the ceremony. A lovely young woman dressed in a black judges robe and 4 inch red pumps officiated the ceremony which lasted about 5 minutes and included the words that typify American weddings.. love, honor and cherish. Words that only begin to exemplify our relationship. She left out 'obey' and 'till death do us part' but we filled in the blanks.
Exit the wedding parlor to the San Diego County gift shop for wedding keepsakes and parking validation. Who'd a thought!
We do want to thank the tireless efforts of the HCN, the ACLU and countless other teams of people for fighting, not just for marriage equality, but for equality for all Americans. Like the chronic stalemate in Washington politics, our selfishness needs better control. As Andrew and I are fond of saying... "Why should you care if your neighbor wants to marry a hippopotamus as long as he doesn't try to make you do it and he respects your right to marry whom you choose. If more people would spend more time taking good care of themselves instead of worrying about what their neighbors are up to we would all be better off."
No wedding gifts please. Andrew is gift enough.



Here's How You Eat Cake in France
Andrew's sister Kate with husband Peter and cake expert son Aryn (pictured here) are discovering that things in France are quite different than they are in America. Take cake eating, for example, in France it's an art for the nose, lips and chin much more so than fork or spoon. And who better than a 2 year old to adapt so quickly to the French way.
Serviette not required!
A Tornado with Honors - Grand Nephew Tyler Shane Cook Graduates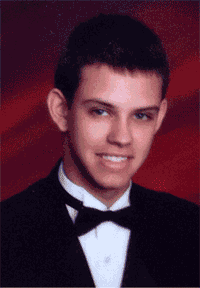 June 6, 2013
All of Agua Clara (Clearwater) Florida is on their feet tonight celebrating the achievements of the Clearwater High School, Class of 2013. Among the honorees is our Grand Nephew Tyler Shane Cook, graduated Magna Cum Laude which is Latin for "never having punched out his homeroom teacher." Diploma in hand, Tyler now has the credential to get any job that involves a paper hat. And with the honors distinction he should be afforded the option, day one, of working the front line or the drive thru window.
As a handsome young tornado, Tyler will face many challenges. Should he go to college or just stay home until he wins the lottery? Should he join the Navy and experience a girl in every port or jump a tramp steamer and tour the world? Should he work at Chick-Fil-A where the senior executives are right wing homophobes or at Jack in the Box where "E coli is not on the menu." He has long legs, perhaps the ballet or the Heat.
Whatever he chooses, we know Tyler won't settle for anything less than his own dreams. Andrew and I will watch Tyler's career unfold with great anticipation. After all, he shares the family blood line. And yes, we willl take fries with that!
Nephew Corey Nambounmy is In the Army Now
Corey is in Army Boot Camp at Fort Jackson, South Carolina where their motto is "Victory Starts Here" and rope climbing replaces cable TV. In boot camp - you start by learning basic skills like crawling backwards, up hill and under barbed wire. Something you will want to be very good at if you plan to escape from prison or slip past a really tough boss. How nice of the Army to supply a photographer so all the boots can show their proud families their new tricks.
In the pic to the left Corey shows great composure as he attempts to negotiate this horizontal rope suspended 10 feet in the air. The look on his face is confident and notice how his left leg dangles to provide just the right balance. This is another important skill to learn just in case you can't get that last pair of pants off the clothes line.


Infamous Army Quotations

No bastard ever won a war by dying for his country.
He won it by making the other poor dumb bastard die for his country.
Attributed to General George Patton Jr.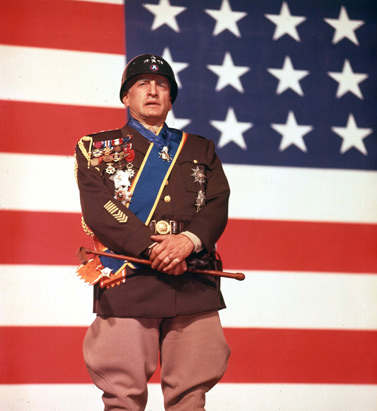 Welcome Joseph Michael Trezek - April 22, 2013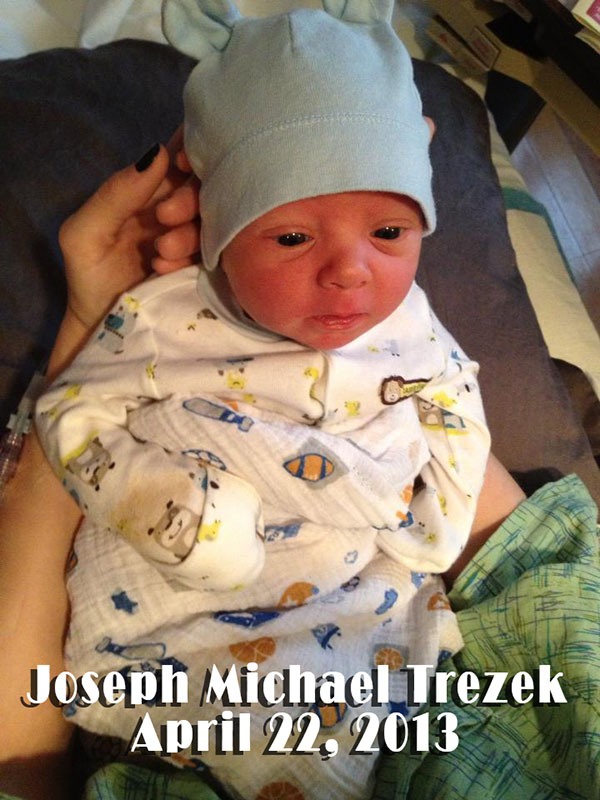 Another sweet bundle of joy joins the extended family thanks to a well timed stork and scheduled OBGYN. Modern health care is so amazing. It won't be too many more years until there are drive though delivery units... beep twice for a boy and three times for a girl. And on your way home stop next door for a latté and smart water. Hydration will still be all the rage.
We wish Joseph, Joey, JoJo, and all the other things people will call him in his life a smooth journey. In his father's own words, life is what you make of it. We know his loving family will give him every opportunity to blossom into the very best man he can be. Andrew and I will be around to watch as his little life unfolds.
The world seems like a harsh and dangerous place these days but it isn't any more so than it was back in the 1950's when I was just a sprout. The only difference is that we didn't have instant global news communication so we didn't know what was happening over there. We grew up enjoying the good things around us... the love of family and friends and of course the hardship of walking ten miles through the snow to school each day. Oh wait... that was Lincoln wasn't it.
So Happy Birthday Joseph Michael Trezek - Welcome to the family. We look forward to meeting you in person and telling you funny secrets about your dad.
Family Time in Florida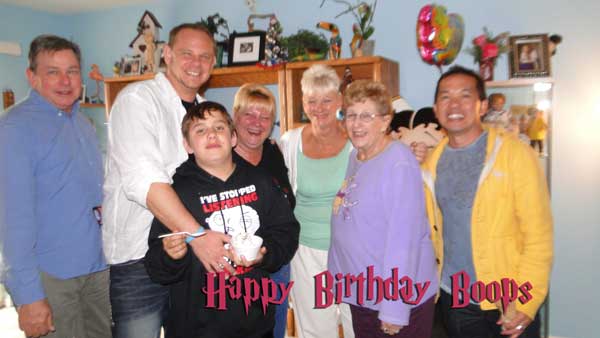 So the Mother turned 85 on February 28 and we gathered in Florida to celebrate. Sherry and Janet hosted the party at their Indian Rocks Beach condo where we got to meet some of Mom's friends and validate the rumor that Janet can indeed cook with a wine glass in one hand and a spoon in the other. But don't bother asking her if she would like some help. Janet is a one woman chef. When she is done, the kitchen is all yours.
Andrew and I also managed a few days in Orlando where we played tourist and did the whole Universal Studios adventure. We are both big fans of the Harry Potter fantasy and getting to tour Hogwarts was a lot of fun. This is a must for JK Rowling fans where the attention to detail is quite amazing and their Disneyesque use of scaled proportion outstanding. The butter beer is way too sweet and delicious for my taste and pumpkin juice... well, best leave that to the goblins.
Mom had a great time visiting with family and friends as did we all. May we all look so great and have so much zest for life when we are 85. And even though the weateher was cold and rainy at times we still we had a very good time.
Check out our photo slide show.
The newest member of our family is born on November 30, 2012. Proud parents David and Jamie have waited a lifetime for their miracle baby and the state of Arkansas is once again enriched beyond measure.
Sister Sherry is now, finally a grandmother but I don't recommend calling her 'granny' just yet.
Andrew and I can't wait to meet Callie in person.
Check out the family photos on Jamie Cook's facebook page.