Donald J. Trump is in Cahoots with Hillary Clinton to Assure Her Victory
There can't be any other explanation. Can Americans be so desperate to deprive themselves of a reasonable president that they would actually put Trump in the oval office. A man who behaves like a racist, misogynistic homophobe (synonyms for douche-bag). Isn't there anyone who can step up and give us options? Coming to the front row now and about time, is former New Mexico Gov. Gary Johnson, a Republican running as a Libertarian with a very liberty oriented agenda. See for yourself. Read his view on the issues of the day. Perhaps a third party in the White House would mitigate some of the grid lock that continues to paralyze Congress.
Hillary - the Better of Two Evils but There May Be Options with Johnson-Weld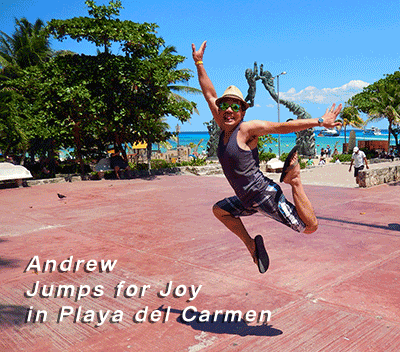 Mayan Riviera V A C A T I O N
Our May 2016 trip to Mexico with our friends Cris and Dean included Cancun, Playa Del Carmen, Isla Cozumel, Chichen Itza, Coba and a big sink hole for swimming and lunch with real Mayan men. All the details.
Celebrate 50 Years Together
Big plans underway to celebrate Andrew's mom and dad's big 50! Watch fo9r details and party invitations coming out this summer.

If you get a chance to see Kurios by Cirque Du Soleil please do. It is a terrific show. We saw it at Dodgers Stadium in Los Angeles and it will continue to travel around the country. The official title "Kurios: Cabinet of Curiosities" is aptly named and the look and feel of the show is marvelous. It's loaded with great comedy, music, costumes, stage design and circus acts. Check out the official web site and see for yourself.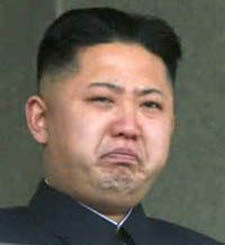 Kim Jon Un
Mouth and Brain Like Donald Trump
Look Who came to Dinner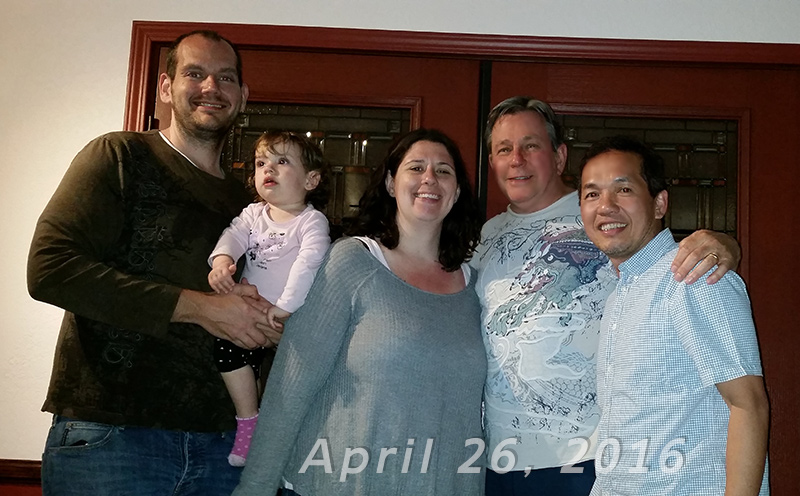 Family get togethers on the Kovarik side of the family are too few and far between. This was our first time meeting Brian and Stephanie's lovely daughter Elizabeth, a dynamo child who acts shy but really seems to know what she wants. Big brown curls and big brown eyes. We were lucky they came out for a SoCal vacation and got to spend a couple of evenings together.


June 24, 2016
A more notable preamble for American politics has never been uttered.
Thank you Britain for your recent vote to withdraw from the European Union and go back to the way it might have been. We now have something more to talk about than selfish murderers, cursed Floridians and Donald Trump. Of course that won't last – Trump is preparing his next senseless salvos of sophomoric soliloquies featuring how he predicted the Brexit vote and how America will fall into the financial abyss unless we put him in the oval office.
Americans should be busy working on a tighter butt clench around their 401K's and we are certainly grateful for that. Congress is apparently incapable of taking action around gun violence so perhaps they can look into options to protect our retirement money. I do hope to retire before I drop dead. What a pisser to save for so many years and never get to enjoy it. The stock market must have value to the average American and not just the rich and Hillary Clinton. But every time I see the numbers plummet my auto butt clench activates and I add a few more months to my retirement countdown calendar.
Never a dull moment.

Bowling 4 Equality
We did it - another year of Bowling for Equality supporting HRC.
The 8th Annual HRC Bowling for Equality event, February 27, 2015 at the world famous Kearney Mesa Bowl. We highlighted the second wave from 3-5 PM under the "Guys Like Us" banner.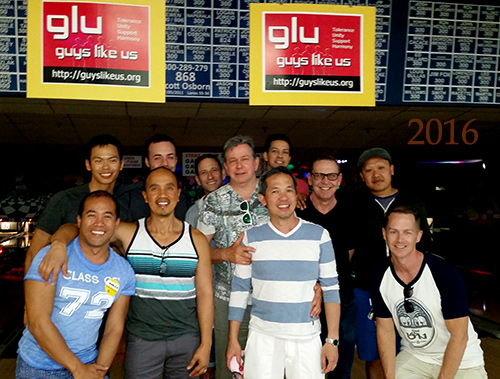 We celebrate independence and the abundance of freedom we enjoy as Americans remembering that equality is also a symbol of freedom, one we struggle tirelessly to achieve. Every American should have a right to a quality education, full time employment that pays a livable wage, the right to marry the partner of their choice and the right to competent, timely and affordable health care.