Here's to 2017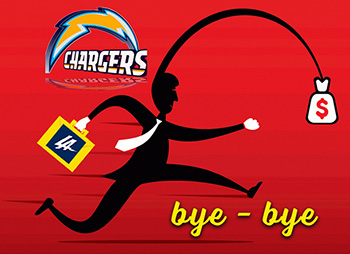 2017 is off to a big start. The now Los Angeles Chargers finally ended the mystery and announced their plan to follow the money. After entertaining 50+ years of fair weather fans the Chargers will now do to San Diego what Trump is likely to do to the country. But then you never know. If we are going to make it through 2017 we will need to keep an open mind and a tight butt clench.
Trumpocalypse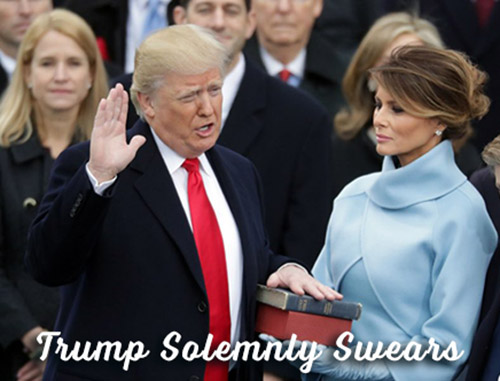 Now We Give Him a Chance to Prove His Words
It's hard to believe anything President Trump says because he such a blistering ego-maniac and a man who's image of reality is unique unto himself. But in fairness, the time has come to give the man a chance to prove his words.
In Donald John Trump's Inaugural Address, his own words..
"...we are transferring power from Washington, D.C. and giving it back to you, the American People."
"The forgotten men and women of our country will be forgotten no longer".
"The oath of office I take today is an oath of allegiance to all Americans".
"From this moment on, it's going to be America First".
"Every decision on trade, on taxes, on immigration, on foreign affairs, will be made to benefit American workers and American families."
"I will fight for you with every breath in my body -- and I will never, ever let you down."
"...and unite the civilized world against radical Islamic terrorism, which we will eradicate completely from the face of the Earth."
"We will no longer accept politicians who are all talk and no action -- constantly complaining but never doing anything about it."
"...whether we are black or brown or white, we all bleed the same red blood of patriots, we all enjoy the same glorious freedoms, and we all salute the same great American Flag."

Thank You Red States
January 20, 2017


We celebrate independence and the abundance of freedom we enjoy as Americans remembering that equality is also a symbol of freedom, one we struggle tirelessly to achieve. Every American should have a right to a quality education, full time employment that pays a livable wage, the right to marry the partner of their choice and the right to competent, timely and affordable health care.